Baldi's Fun New School Plus™ Classic Edition
A New Edition Has Started Being Developed!
---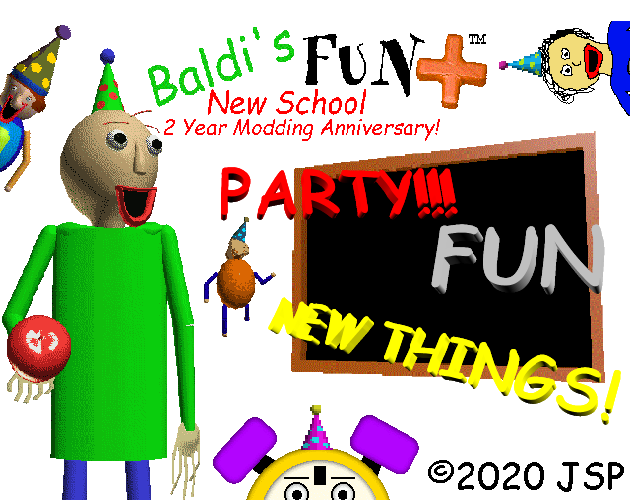 So, if you didn't know already, I've started working on a new edition of BFNS Plus! Named Baldi's Fun New School Plus 2 Year Modding Anniversary, it will be similar to the original, although there will also be some new stuff. I'm planning on releasing the first version of it tommorow, and these are some things I'm planning on adding:
A New Item
Balloons And Cakes In Hallways And Cafeterias
More Secrets
Some New Interactables
More/New Textures
Achievements (Possibly)
Improvements To Gameplay
As Well As Other Things!
I'll be putting up the page for this edition later today, and I hope your excited for it! I've included dev. images above if you want a sneak peek at some of what's already been finished. https://twitter.com/JohnsterGames/status/1266773208029696007
Edit: The page for the edition is now up, you can view it here: https://johnsterspacegames.itch.io/bfns-plus-2-year-modding-anniversary
Get Baldi's Fun New School Plus™ Classic Edition