Baldi's Fun New School Plus™ Classic Edition
A downloadable Classic BFNS Plus for Windows and macOS

Welcome To Baldi's Fun New School Plus Classic Edition!
BFNS Plus Classic Edition (previously just referred to as Baldi's Fun New School Plus) refers to versions of Baldi's Fun New School Plus Ultimate Edition (which will eventually become the completed, full version of BFNS Plus) prior to Alpha 6, since that version and later are planned to bring significant changes to what Baldi's Fun New School Plus was like in Alpha 5 and earlier. Hence why this page of BFNS Plus have been rebranded as the classic edition. You can also check out the original Baldi's Fun New School here. Enjoy playing!
About BFNS Plus Classic Edition
In this game, you must collect notebooks while avoiding Baldi. At first, things might seem normal, but once you answer wrong, Baldi will start chasing you! Not only do you have to worry about Baldi, but also his friends! You'll see some familiar faces, along with new ones! His friends can either help or hinder your progress as you explore the floors, looking for all the notebooks. Items are also scattered around, which can slow down Baldi and his friends, or help you get away from them. On each floor, you must collect all the notebooks before you can leave that floor and continue to the next one. As you progress in Experience Mode, you'll discover not everything is as it seems...
Some Fun Game Modes
There are 3 gamemodes you can try out and play. These modes are...
Experience Mode: Play through several increasingly difficult levels! If you can beat them all, an unusual ending awaits.
Level Customizer: Create and play a customized level! You can set what characters are active, the amount of exits and notebooks, and more.
Trip Mode: Play some field trips with Baldi! You can choose between playing camping and farming.
Lots Of Features
Besides gamemodes, there are also other features. A few of these are:
New Characters - Besides Baldi and the original cast, there are also new characters, such as Clocker, King Of Doors, Tomnado, and more!
More Settings - There's more changeable settings in-game, such as quality, screen resolution, and other settings!
Multi-Platform Support - While the original Baldi's Fun New School was only available on Windows, BFNS Plus Classic Edition is also available on MacOS in addition!
Improved Level Design - While the level design in the original BFNS was good, there are a lot of improvements that could have been made to it. In BFNS Plus Classic Edition however, levels have better design, like more types of rooms, structures such as roto-halls, fountains, and merry-go-rounds, as well as more!
Links
Links to content relating to BFNS Plus can be visited below:
Credits
BFNS Plus Classic Edition has a lot of new content compared to the original Baldi's Fun New School and BFNS Plus Ultimate Edition will have even more. Without all of you, I couldn't of gotten this far!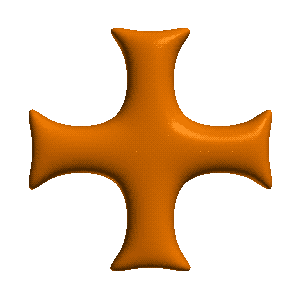 © 2020-2022 JohnsterSpaceGames
| | |
| --- | --- |
| Status | Released |
| Platforms | Windows, macOS |
| Rating | |
| Author | JohnsterSpaceGames |
| Genre | Educational, Adventure |
| Made with | Blender, Paint.net, FL Studio, Unity, Audacity |
| Tags | baldi-mod, Baldi's Basics, baldis-basics-plus, baldis-fun-new-school, baldis-fun-new-school-2, baldis-fun-new-school-plus, baldis-fun-new-school-plus-classic |
| Average session | About a half-hour |
| Inputs | Keyboard, Mouse |
| Accessibility | High-contrast |
Install instructions
Download the desired .zip file for your platform. If you don't have a .zip file extraction program, download 7zip or WinRAR. The files should already be in a folder when you extract it. Enjoy playing! Note: If your downloading the BFNS+ OS Project version, you need Unity 2018.3.9f1 to open the project's files. To enable shadows, you need to go to "Options" and then set the Quality to "2018".