Baldi's Fun New School! (v1.0.75)
A downloadable Baldi's Basics Mod for Windows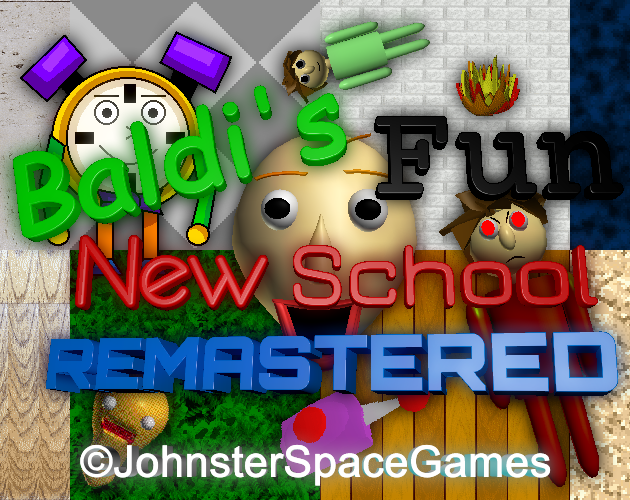 Some early development builds that were previously lost of the mod in different development stages have been found and are now publicly available! These range from a version before the private alpha, to some pre-release dev builds. Enjoy!
An open source/project version of Baldi's Fun New School is available! To get it, download the BFNS 1.0 OS version (either zip or rar), and open the project's folder using Unity 2018.3.9f1, which you can get here if you don't have it already. You can use this version of the mod to make your own mods! Don't forget to credit me for the original baldi's fun new school though!
Welcome to my first mod of the new decade and year, 2020! This is also my first mod to use a custom made map for the school, which I designed myself, thanks to Paulor94 for helping me get started with it!

Story: To celebrate 2020, Baldi has made an entirely new school from scratch, for you to have fun in! Besides Baldi, his f̸̣̓r̷͚̀̒͠ị̵̢̩̏̃͠e̴̤͈̦͛̌n̶͙̓̃̃d̸̲̝̀͘s̷̩͛͜͝ ̵̡̣͗h̷̲̍̅a̷͈͙͗v̸̡̳͊e̶̜̒̓ c̵̡̛̙̤̦͆̈o̷̬͚̰̤̒̇͛m̵̫̯͖̎̂̊͜ë̶̜͎́ ̴̰̝̆̀̌͘͜͜t̶̡̥͕͇̃͝o̸̺̬͒o̸͉̥̠̽̏̊̎!̵̨̱͉̱͋͛͐̈́ WHY DID YOU COME BACK?!? It's somehow worse than before, you should of destroyed the game. Even though you came back, i can still help you. Find items, use them to your advantage. Make noises, to make him go somewhere away from you. Don't make him mad! Once y̵̡̫̭̞̅͛̋ǒ̶̩̬̪̋͐͘ú̷͕̠̩͂ ̸͓̾ď̵̯̰̜͊̑o̵͇͍͛̈́̆,̷̜̗̤̉̄͂͝ ̴̼̮̻͛͌t̴̢̰̥̋͘h̵̞͂́̉̕e̵͇̯͂̚r̶͕̕e̸̪̿͗͒͘ͅ'̷̗̯̗̰͌͗̍̐s̵̨̳̔̓ ̶̛͎ǹ̸͍̀o̸̞͇̦̚ ̸̡͇̘̩̀g̵̦̲̖̈́͑͗o̶͓̭̍̀̈́̀͜ḯ̷͜n̸̫̝̦͂̄͘g̴̫̃ ̷̗͇́͂̃̓b̶̘̌̊̓̑ȁ̸͍̭͈͑̓ Get 7 notebooks like you normally do, and baldi hopes you have fun exploring the brand new school while doing so!
To find the credits for this mod go to the title screen and click on the orange credits button. Then, it will bring you to the credits screen, and to go back just click the back button. Also, press TAB to activate the minimap, and hold the key to keep it open. There's also a new ending, which has to do with the number walls found in some rooms/areas. The latest update released is 1.0.75.
| | |
| --- | --- |
| Status | Released |
| Platforms | Windows |
| Rating | |
| Author | JohnsterSpaceGames |
| Genre | Educational |
| Made with | Paint.net, Unity, Audacity |
| Tags | 3D, baldi-decompile-mod, baldi-mod, Baldi's Basics, baldis-basics-mod, baldis-fun-new-school, bfns, open-source-updates, Singleplayer, Unity |
| Average session | A few minutes |
| Languages | English |
| Inputs | Keyboard, Mouse |
| Accessibility | High-contrast |
| Links | Homepage |
Install instructions
After downloading and unzipping the file, please read the readme file included! It gives some good tips and also a secret code you can put in the think pad, which is 1320.