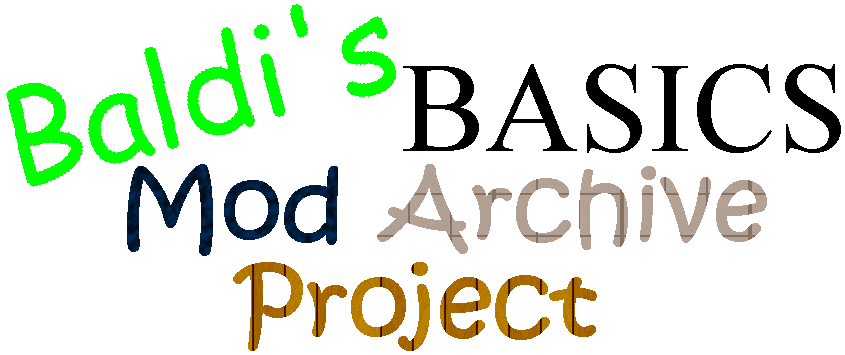 Baldi's Basics Mod Archive Project (1.1.2)
A downloadable mod archive project for Windows
Welcome to the Baldi's Basics Mod Archive Project, which is a community project I'm working on that aims to archive as many appropriate baldi's basics mods as possible and make them easily accessible to download and play via a mod launcher (which will be made available once some mods have been added to the archive). This will be so that if the mod becomes unavailable from it's original site in the future, you'll still be able to download and play it from the archive!

But I Need Your Help!
Due to the large amount of baldi's basics mods that exist out there, I only have time to add some of them myself to the archive. For other ones, I need your help with finding and archiving them. You can submit mods to the archive by filling out this form (https://forms.gle/dNMZwDedAbYVZCaT9) but remember to follow the rule that the mod must be appropriate , so that your submission gets accepted and added to the archive.
About The Mod Launcher
The mod launcher is where you view information about mods in the archive, as well as download and play them from. The latest version of the mod launcher is 1.1.2, and it includes features like:
Being download and play multiple versions of a mod
Checking for and downloading updates to the mod launcher
Mod of the week, where every week a mod is highlighted
The ability to create custom mod entries (Added in V1.1)
Changeable settings (Added in V1.1.1)
You can download the mods from here: Baldi's Basics Archived Mods 1.
Thanks for checking out this project, and consider helping add to it!
©2022 JohnsterSpaceProgram And Others!
Install instructions
Download the mod launcher's zip file. To avoid any potential mod download problems when using it, extract the zip file to your desktop. Then just click on the exe file to start the mod launcher.
Download
Download
BBMAP Mod Launcher 1.1.2.zip
25 MB